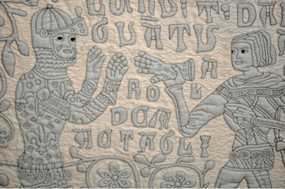 The precise origins of raised embroidery (stumpwork) are lost in time. So one can only look back to a period when even earlier embroiderers were working in the narrative style. Using two layers of linen fabric , a cotton wadding sandwich, and white as well as light brown linen threads. Sicilian embroiderers created the narrative Tristam quilt in around 1400. In a series of fourteen scenes of a cartoon strip tells the story of the oppression of Cornwall by King Languis of Ireland, and the battle of Sir Tritam on behalf of King Mark. Writing in the 1920's Theresa Macqoid suggests that this early pictorial quilting was perhaps the initial impetus to figurative stumpwork embroidery.
Within half a century professional Hungarian embroiderers were incorporating raised embroidery into their sumptuous ecclesiastical apparel. In 1574-75 we would have found Wolfgang Popp busy in his German studio creating Das Salzschiff. A guild shield which illustrates three figures in high relief about to land barrels of salt on the banks of the river Donan in the German town of Passau. Using wire, wax, wood, horse hair, metal threads and brocade like fabrics.
He was creating professional raised embroidery in the stumpwork style.
Concurrently, in Elizabethan England embroiderers were exploring the rich and exciting qualities of detached buttonhole stitch. Which lead to the 'flying' needle lace that adorns much Elizabethan embroidery.
17th Century and stump work heydays
By the 17th century, embroiderers living in affluent environments of the upper classes. Surrounded by the woven tapestry, carved furniture, embossed plasterwork and silver work. Influenced by a growing interest in science, plants, flowers and all thing religious and mythological, were seeking to interpret these in stitch. Although many embroiderers continued to create 'flatwork' embroideries in imitation of the woven tapestries. Others appear to have been influenced by the earlier raised techniques and needle lace developed by the Elizabethans.  These privileged young ladies practiced a diverse range of stiches and techniques on spot motifs and band samplers. The decorating of these caskets and mirrors provided a great opportunity to explore the potential of these stiches and patterns. Many girls spent years working on such projects.
Pattern books and Kits
Professional embroiderers who travelled the country visiting large country houses and estates largely sustained the fashion for raised embroidery. Ready drawn designs on linen or satin could be bought or drawn "in house" along with craved hands and fruit that would later be placed on work. These peddlers knew exactly which scenes would attract the most customers, and by drawing figures dressed in the latest fashions, young girls found them irresistible. These early forms of embroidery kits could go a long way to explain the similarity of design and choice of motif in many historical pieces.
The fascination of stump work
Stumpwork objects displayed a high level of imagination in design, and predominately adorned with pictorial images drawn from biblical stories and classical mythology.  Popular images were large formal portraits often framed in oval cartouches. What ever the main subject the background was enlivened with animals, insects, birds, trees and buildings. These were joyously placed around figures to fill spaces, sometimes in a more ordered way, sometimes in a more playful and haphazard way.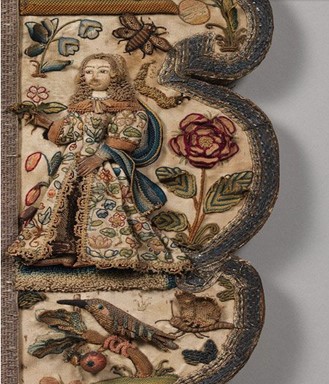 The embroiderer copies many motifs without changing the scale, which had the effect of merely adding to the fantastical nature of the scenes.  Motifs were taken from printed sources, of which there where many to choose from. New pattern books, herbals and bestiaries were circulated, many thorough in their chosen subject; one published in 1630 by Thomas Johnson was called A book of Beaste, Birds, Flowers, Fruits, Flies and women, exactly drawne with their Lively colours truly described.
Political Rebellion
Stumpwork, although always used to adorn luxury objects, never maintained the formal repetitions, you see in many of the decorative arts. Though pictorial in nature it developed a rich symbolism of its own, which was largely informed by the turbulent years from Charles I through to the restoration. Many of the male biblical characters in these scenes, as well as the regal lions, bear some resemblance to Charles I or Charles II. Portraits of monarchs were occasionally stitched, and are instantly recognisable.
Embroiderers sometimes expressed their loyalty to the royalist cause through emblems or hidden images. The caterpillar, it has been suggested, is a badge of Charles I and a butterfly, oak and acorn badges of Charles II. One could choose from a splendid range of subjects, including sheets of flowers, fruit, birds and animals. Carnations suggested love and bees diligence and orderliness. Many embroiderers would know the meaning of each motif, but many where chosen just because they liked the curved line of the petal or the potential for stitchery within a snails shell or lions head.
Restoration
The restoration of Charles II brought more literal approach to this symbolism. The figure of Charles II , became synonymous with that of king Solomon . the marriage if king Solomon to the queen of Sheba is one of the more common themes and represents the marriage of Charles I to Henrietta Maria. Charles II and Catherine of Braganza were also represented. Other scenes from the Old Testament such as Esther and Ahasuerus were also popular and recurred again and again, however always varying through the different applications of embroidery. Work by the amateur embroiderer ranged for basic to works that showed great skill.at its peak both amateur and professional embroideries could be highly intricate and inside many caskets lay three dimensional gardens in sunken trays.
Its fall from favour
Over a period lasting a few decades these domestic embroiderers of Stuart England worked with remarkable industry and zeal to create a wealth of panels and boxes, caskets and book covers, as well as cushions and mirror frames, all in the raised embroidery style which the Victorians renamed stumpwork. Although most of the large Victorian private collections are now dispersed, this has ensured that a larger body of people can enjoy this Stuart inheritance, either as owners or by visiting one of the many public collections, and after three centuries stumpwork once more enjoys a growing popularity among embroiderers.
MATERIALS
• A painted calico background is often used, however you may prefer to work on linen or silk.
• Stranded cottons, perlé, coton a broder, and other threads of your own choice may be used.
Silk Ribbons – used for covering beads, and ribbon embroidery.
Silk cords – useful for edging motifs and filing large areas, tree trunks etc.
Metal Threads and wires – there are no rules on how these can be used.
Needles
Embroidery/ crewel no's 10 and 12
Chenille no's 24, 22 and 20
Tapestry
Beading
Other materials
Tracing paper – for transferring the original design, it can also be used to make pricking's for padding, appliques, and for the creation of buttonhole shapes
Vilene – padding
Pointed end tweezers – can be used to put bundles of wadding under cut out slips
Scalpel – used for cutting small pieces of wood for noses etc
Glass cutter- for cutting shisha mirror
Paintbrushes – medium sized for painting backgrounds and a fine brush (000) can be used for ringlets or pasting edges of needle lace slips.
To construct your figure you will need
• Felt – for padding and covering padding
• Wadding – for filling flat areas.
Floristry wire for making hands and insect antennae
Bibliography
'Raised Embroidery, Barbara and Roy Hurst, ISBN-13: 978-1853912030
Stumpwork RSN Essential Stitch Guide – Kate Sinton ISBN-13: 978-1844485864
A practical guide to decorative Stumpwork'. ISBN: 1-85391-203-4
'Needlelace Stitches' Ros Hills & Pat Gibson, ISBN: 0-85219-758-6
'The Lady Lever Art Gallery – Catalogue of
Embroideries. Xanthe Brooke, ISBN: 0-7509-0149-7.
Stumpwork Embroidery: A Practical Guide to Creating Plants, Animals & Figures Paperback – 29 Aug 2014
by Kay Dennis, Michael Dennis ISBN-13: 978-1782211020
'Complete Book of Stumpwork Embroidery' by Jane Nicholas ISBN: 978-1863513418
A-Z of Stumpwork (Search Press Classics) Paperback – 20 Oct 2014 by Country Bumpkin Publications ISBN-13: 978-1782211778
Stumpwork Flowers Paperback – 6 Sep 2013 by Sachiko Morimoto ISBN-13: 978-1844489459
SUPPLIERS
Borovicks, 16 Berwick st London, W1V 4HP; http://borovickfabrics.com
Creative Beadcraft Ltd, 31 Smiths Court Brewer Street London W1D 7DP; http://www.creativebeadcraft.co.uk/the-london-shop.asp
The Enamel shop, PO box 43, London, SE19 2PN (mica)
ETP sales and agencies, Armtech Row, Houndstone Business Park Yeovil BA22 8RW 01935 433538 for thin glove leathers
Heathside Crafts, 149 West Heath Road, Farnborough, Hampshire, GU148PL for fine needlelace threads and other textile materials
Mac Colloch and Wallis Poland Street ; http://www.macculloch-wallis.co.uk/FrameStatic.aspx/TheStore.htm
Mulberry Silks, Patricia Wood, 2 old rectory cottage, Malmesbury, Wiltshire, SN16 0PE for 100/3 fine pure silk thread; http://www.mulberrysilks-patriciawood.com